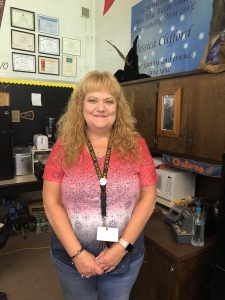 How long have you been teaching?
33 years in total.
How long have you been teaching at THS?
21 years at THS
Cheer coaching and yearbook.
A daughter named Jessica, 2 dogs, 2 cats, and parents that live close to THS.
Where are you from(born/raised)?
Gary Indiana, settled in North Carolina, raised in Florida.
Where did you go to college?
University of Florida.
Reading, arts and crafts, and do it yourself projects around the house.
Fun facts about yourself?
Related to all earls of oxford.