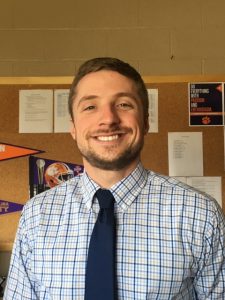 How long have you been teaching?
Teaching for a total of seven years.
How long have you been teaching at THS?
First year at THS.
Past careers?
Taught at WMS and was also an assistant principle.
Children/Family/Pets?
Wife
Son- Jax
Dog- Gypsy
Where are you from (Born/Raised)?
Born in Concord, NC but moved to Waynesville when I was five so I would consider myself born and raised in Haywood County.
Where did you go to college?
Undergrad- App State University.
Grad- Gardner- Webb University
Fun facts about you?
Graduate from THS in 06.