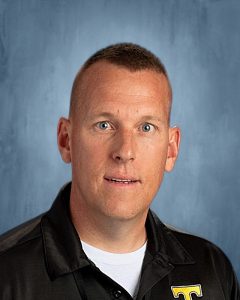 How long have you been teaching?
15 years in total.
How long have you been teaching at THS?
11 years at THS.
EC teacher at WMS (4 years).
Currently in the North Carolina National Guard with 25+ years total service.  Served three years active Army prior to going to college, worked as a land surveyor for two years after college.
Two kids, Daughter (Josie 16), Son (Jeb 12).
Wife (Amy) teacher in A6.
One dog Rocky, Two cats Augustus, and Tiger.
Where are you from (Born/Raised)?
Roxboro, North, Carolina Penson County.
Where did you go to college?
Haywood Community College class of 98.
Western Carolina University class of 2000, Grad school class of 2010.
Hunting, Fishing, Construction, Farming, Camping, Spending time with family.
I've traveled to 38+ countries.