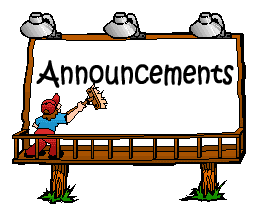 Congratulations to all the students who received their CNA pins last night, and thank you to the Symphonic Band for last night's concert.
Students who paid for attendance recovery and want their receipt can pick that up from Ms. Martinez in the front office.
ALL students on yearbook staff for next year need to see Ms. Bates by this Thursday at 3 PM.
If you need to pick up the yearbook you purchased, or if you want to buy a yearbook at this time, go see Ms. Bates in B-2.
Marching Band practice will be held Thursday afternoon from 4-6:30.
Seniors planning to attend Haywood Community College next year: A special Fall registration week will be held June 25-28. Come by the counseling center for more information.
And a reminder that all Seniors and Junior Marshals need to attend graduation rehearsal next Friday, 6/15 at 8:30am in the cafeteria. If everyone is on time and cooperates, we will done in about an hour.