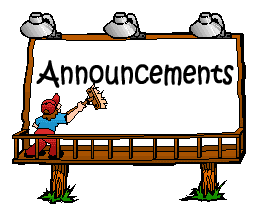 Senior Decision Day!
Good morning. Great to see all the college shirts on campus today!
The Rally schedule was emailed to teachers yesterday.
We'll be dismissing seniors, summit, and band students at 8:30 this morning.
First period teachers will take all other students to the gym at 8:50—students will sit with their first period classes.
Rally starts at 9. Make sure to say a special hello to families of seniors who are visiting for the rally this morning!
Seniors, if you want to explore college and career options for next year, stop by the counseling center to make an appointment with Mr. Johnson.
Upcoming Events:
The Tuscola High School Choruses will present their Spring Concert and Awards TONIGHT at 7:00 pm in the auditorium. Everyone is invited to attend. There is no charge for admission.
Yearbooks will be distributed tomorrow! Ms. Bates has posted a list of buyers outside B2. If you purchased a book, check the list to make sure your name is on it. IF you haven't purchased a book, there is still time, first-come/first serve, $80 in B2.
Our annual Unified vs. Faculty/Staff Flag Football game will be tomorrow night. Come out and support all the athletes.
The THS Symphony Band concert will be at First United Methodist Church next Tuesday, June 5th at 6:30pm.
 There is only (1) attendance recovery sessions left: TODAY! Sign up in the front office today to attend one of these sessions.