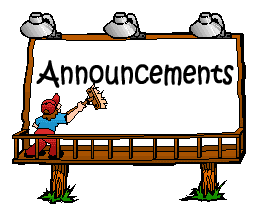 Thank you to the Tuscola Concert Band, under the direction of Mr. Ingle, for a great concert last night.
Also congratulation to Hannah Litty, whose art work won honors during the Haywood County Schools Art Show last night! We'll have a picture of her winning entry on the announcement slides.
Seniors,
You will receive a SENIOR EXIT SURVEY today in home room today. You must fill it out and return it to your homeroom teacher. This is required for graduation.
Dove also needs your acceptance letter to the college you will be attending, or your enlistment papers, for our **Senior Decision Day Rally** next Thursday. Families of Seniors are welcome to come to the rally—and everyone can wear their college, military, or occupation attire! (That includes teachers!)
If you haven't applied for college yet, it's not too late! Stop by the counseling center and talk to Mr. Johnson. Also, go see Mr. Johnson for information about Haywood Community College scholarships.
Juniors will also be busy today during homeroom! Juniors, your homeroom teacher will take you to the auditorium to hear a short presentation about senior pictures this summer. You will be released from there to go to clubs/lunch.
Yearbooks will be distributed next week! Ms. Bates has posted a list of buyers outside B2. If you purchased a book, check the list to make sure your name is on it. IF you haven't purchased a book, there is still time, first-come/first serve, $80 in B2.
Our annual Unified vs. Faculty/Staff Flag Football game will be on Friday, June 1. Once again this year the WMS team will be playing Haywood County law enforcement members before our game begins. Come out and support all the athletes.
There are only (2) attendance recovery sessions left! Sign up in the front office today to attend one of these sessions.