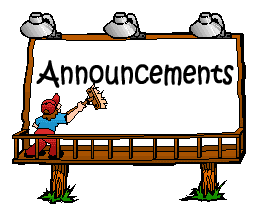 Welcome to Day 4 of Student Recognition Week!
We will have our last elementary school Senior Walk TODAY. Students who attended Hazelwood Elementary will board a bus Thursday, at 1:00pm to walk the halls and say hi to students and teachers there.
The FFA Banquet is tonight at 6:30 at the Haywood County Extension Office. See Ms. Ross or Mr. Best if you have any questions.
FBLA Club Members: Your last meeting will be tomorrow immediately after homeroom. Members will plant flowers and enjoy some pizza afterwards!
Tomorrow night, our color guard will be conducting a joint presentation during the Haywood County Special Olympics opening ceremony at the Canton Recreation park. Come out and be a part of that event at 6pm!
Seniors, we need your baby pictures! Please bring a picture or yourself as a baby or toddler to Ms. Bates in room B2 for the graduation slideshow.
Scholarship Deadlines:
Lions' Club of Maggie Valley: tomorrow!
Benenati Law Firm Future Leaders Scholarship: May 31
Horatio Alger Scholarship: June 15
ETSU Balanced Man Scholarship: June 16
Attendance recovery is still underway on Tuesdays and Thursdays for students with more than 6 absences. Sign up in the front office.
[any student announcements]