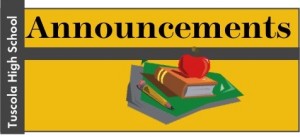 Happy Friday, and happy Teacher Appreciation Week!
Teachers, We will continue our drawings throughout the day for gifts donated by local businesses. Yesterday we had winners take home gifts from Blue Ridge Books, Panacea Coffee Company, Mountain Flavors, and Robin Blu.

Colonel Sutton needs to pick up his gift certificate from Coffee Cup Café, and
Coach Chambers also won a gift certificate—from Bogart's. Those are in the Counseling Center.

Listen for more prizes throughout the day.
Teachers should also plan to come to the Media Center during their regularly scheduled lunch for a special meal from Bocelli's. If teachers will be off campus with Special Olympics, have a coworker get a plate for you.
STUDENTS:
***Important message about Prom***
Haywood Community College welcomes students to come take their photos by the mill pond, but you may not park on the grass—use the lower auditorium lot and walk across the street to the pond.
Also, cars left on campus will be locked behind the campus gates overnight. If you are carpooling to prom, do not leave cars on the HCC campus!
If you have not picked up your prom tickets, those are in the front office.
Senior Class group photos will be taken next WEDNESDAY at 1pm and are available for purchase; those order forms are also in the front office. Remember: Boys must wear black pants, white collared shirt, and dark tie. Girls may wear a black dress, or a black skirt or pants with a black shirt. Everyone must wear black shoes—NO FLIP FLOPS.
Senior Walks at Elementary Schools will happen next Tuesday for Jonathan Valley, Junaluska, Clyde, and Riverbend;
Hazelwood Elementary will be the next day.
Seniors, we need your baby pictures! Please bring a picture or yourself as a baby or toddler to Ms. Bates in room B2 for the graduation slideshow.
We have a new Scholarship!!
The Benenati Law Firm Future Leaders Scholarship for $2,000 is available to seniors with a 3.0 GPA who have an immediate family member that was injured in an accident. See Ms. Dove in the Counseling Center for more information.
Juniors, remember to check your appointment times with Lifetouch regarding your Senior Portraits. That schedule is posted outside room B-2.
Attendance recovery is underway on Tuesdays and Thursdays for students with more than 6 absences. Sign up in the front office.
Upcoming Events:
Tomorrow: Leave canned food out for the Post Office Canned Food Drive. Our ROTC students will sort donations for local residents in need.
Next Tuesday, May 15th is Academic Awards Night at 6:30
Next Wednesday, May 16th Seniors will gather in the gym at 1pm for the class picture.
Also on the 16th: Students wishing to take English courses at HCC may take the English Placement Test. Questions? Go see Mr. Johnson in the Counseling Center.