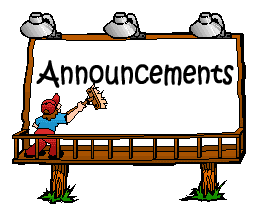 Congratulations to our seniors who were notified last Friday that they will receive scholarships from the Haywood County Schools Foundation! Check the announcement boards for that list of students, and give them a high-five when you see them on campus today! Also, Seniors–as you learn of other scholarships you'll be receiving, swing by the counseling center and give that information to Ms. Dove.
Also, ballots have been tallied from last week's student art show! Congratulations to the following students on their award-winning art work:
ART 1  Brisa Raya
ART 2  Trina Lyon
ART 4  Leah Sutton
A word about Spring Photos:
9th-11th grade students need to either return their spring portrait packets or pay for the pictures you are keeping. See one of the publications students during either lunch this week in the lobby. Keeping your photos without paying for them will result in you being placed on the obligations list.
If you didn't pick up your spring pictures last Friday, see Ms. Bates in B2.
The HCC Math Placement Test is TODAY in the Media Center after school. The English Test will be May 16th. Questions? Go see Mr. Johnson in the Counseling Center.
Attendance recovery is underway for students with more than 6 absences. Sign up in the front office for any Tuesday or Thursday in May: 3:15-4:40 to make up for one class absence, or stay until 6:05 for 2 classes. Cost is $5 per afternoon.
Prom Tickets will be given out during Study Hall on Wednesday and Thursday this week. Make sure to pick up yours.
Seniors who qualify to wear academic honors cords at graduation can still purchase those from Ms. Dove this week in the counseling center.
Regarding testing:
The AP Testing begins today and will run through May 24th; check out that schedule on the THS Website.
Final Exams, including EOC, NCFE, and Vocats testing, will be the last week of school: June 11-15th.
Applications to Tar Heels Boys State are due May 15th. This Intense leadership program in NC state government & politics is offered to rising senior boys during the 3rd week of June at Catawba College. More information is available in the counseling center.
Upcoming Events:
This Thursday, May 10th: Air Force Junior ROTC 45th Annual Awards Ceremony will be held in the Auditorium at 5pm. Faculty, Staff and Students are invited to attend.
Next Monday, May 14th: Marching Band Registration Meeting at 6:30 in the Auditorium. Get a head start on filling out those forms by visiting TuscolaBand.org. Those forms will be online tomorrow.
Next Tuesday, May 15th: Academic Awards Night in the Auditorium, 6:30. Calls went out this weekend to the homes of students who qualify to attend. Students must notify Ms. Dove by Thursday if they are planning to attend!
Next Wednesday, May 16th: Senior Class Picture at 1pm in the GYM, then students will board buses to their former elementary schools for Senior Walk. Stay tuned for more information
Finally, May 21st: Driver's Ed Begins. That's in 2 weeks.