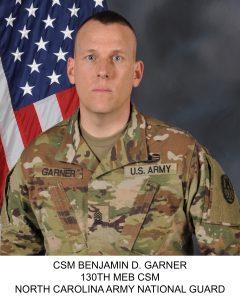 Congratulations to Tuscola teacher Benjamin Garner who recently earned the rank of Command Sergeant Major of The National Guard's 130th Maneuver Enhancement Brigade.
CSM Garner has had an illustrious career with America's armed services. He served with the Army's First Armored Division in Germany as a Stinger Missile Gunner, then joined the North Carolina National Guard in 1996 as a Military Policeman, working his way up from SPC to 1SG. In 2012 he was re-assigned as the 1SG of HHC 130th MEB. Three years later he accepted a promotion as the CSM of the 30th STB/236th BEB of the 30th ABCT in Durham, NC.
A graduate of the United States Army Sergeants Major Academy, Garner's many awards and decorations include: Meritorious Service Medal w/Bronze Oak Leaf Cluster, the Army Commendation Medal w "V" Device, and 3 Bronze Oak Leaf Clusters, Army Achievement Medal w/4- Bronze Oak Leaf Clusters, Army Good Conduct Medal and the Combat Action Badge. CSM Garner deployed to Bosnia Herzegovina in support of Operation Joint Endeavor, Afghanistan in support of Operation Enduring Freedom, and Iraq in support of Operation Iraqi Freedom. He also earned his Master of Arts from Western Carolina University.
This marks Garner's 14th year as a Haywood County public school teacher—the most recent decade has been spent at Tuscola, where he teaches Special Education/Occupational Course of Study classes, Math, and Occupational Prep. His wife of 17 years, Amy, also teaches at Tuscola.
"I most enjoy mentoring young men and women, and seeing them grow into successful adults," says Garner. "Many of my students do not have a positive male role model in their lives, and I like to try and be that role model for them."
The Garners live in Waynesville with their two children, Josie (16) and Jeb (11).