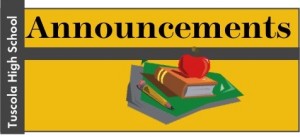 A special thank you to all the students who donated soaps and hygiene products for our Soap for Serenity Challenge. Our top 3 first classes are as follows:
Third Place–Ms. Kea = 444
Second Place–Mr. Wise = 961
First Place–Ms. Tox = 1,540  (in a class of only 11 students!)
Congratulation to Ms. Tox's class, Winners of the free Chick-Fil-A Breakfast.
This Friday will be Spring Spirit Day. Wear your tropical tourist attire.
Tickets are now on sale for "Song of the South," Summit's 16th annual Country Western show. Performances will be held on April 20 and 21 at 7:00 pm and April 22 at 2:30 pm. Teachers and students get a special price of $5.00 per ticket. See a Summit member or Ms. Brown to purchase tickets.
Our Academic Awards Ceremony will be on May 8th. Seniors, we want to recognize the scholarship offers you receive. Please bring your COLLEGE ACCEPTANCE LETTERS AND SCHOLARSHIP OFFERS TO THE COUNSELING CENTER so that Ms. Dove can make a copy of them.
CLUB NEWS:
Students interested in CHEER: Cheerleading tryout information is available for pick up in the front office and in room B2 and due April 17.
**DRIVERS ED UPDATE** our next class will begin on April 16, our first day back from Spring Break.
This is the last week to purchase PROM tickets. You may purchase tickets for $50 each after school from 3-3:30 today, tomorrow, and Wednesday ONLY outside Ms. Cope's room, B-10.
**NEW SCHOLARSHIP**
The NC Society of Accountants offers scholarships of $750 to students who will pursue a degree in accounting. Application and letters of recommendation are due by April 15. Come by the counseling center to pick up an information packet.