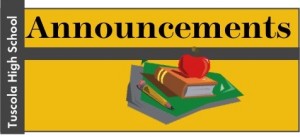 RECYCLING goes out today.
TEACHERS: Please go over the obligation list with your homeroom.
MEN'S TENNIS team members should be dismissed at 2:45 TODAY for pictures.
**Congratulations to the THS Concert Band for their rating of SUPERIOR at the North Carolina Music Educators Association Band Music Performance Assessment.
CLUB NEWS:
This week is National Youth Violence Prevention Week. Tuscola's SAVE Promise Club is focusing on preventing violence and to encouraging our school to be a safe, secure, and inclusive space.
Today's theme is Unite in Action. Students are asked to consider group or community projects that empower youth and protect each other from bullying.
We are extending our Soap for Serenity challenge. Turn in new, unopened soaps and sanitary products to your 1st period teacher all next week. All donations will go to students in need. The First Period class with the most donations will win a free Chick-Fil-A Breakfast!
Fly-Fishing Club: It's time to plan some trips! Stop by and see Mr. Sugg.
Students interested in CHEER: Cheerleading tryout information is available for pick up in the front office and in room B2.
Your paperwork is due on 

April 17

You must have a current sports physical on file.
There will be a clinic on 

April 21

 to learn tryout materials,
and official tryouts are the last week of April.
VOTER INFORMATION
Students who will turn 18 years old by election day, November 6th, may register to vote in the primary election on May 8th . For help with voter registration, see Mr. Sugg in Room A-4.
Also, students interested in being Election Assistants in the primary must be registered to vote and attend a required training session. This is a great civic opportunity, and the pay is $75. Seniors interested in being Student Election Assistants can get an application from Mr. Sugg.
SCHOLARSHIPS:
The Journey Scholarship application must be postmarked TODAY. Applicants must have a 3.0 GPA (unweighted) and live in one of the following Haywood County communities: Beaverdam, Bethel, Fine's Creek, North Hominy, or Pigeon.
The Crabtree-Ironduff Volunteer Fire Department for students who live in that area are due April 2nd.
HCC Merit Scholarship applications are due April 6th.
Applications for the Trooper Shawn Blanton Memorial Scholarship for students on the Girls' Softball Team are due April 16th.
The Haywood County Farm Bureau Scholarship is available to seniors who live in Haywood County; plan to attend a technical, community, or four-year College to studyagriculture; and who have a family member who is also a member of the Farm Bureau. Those applications are due April 15th.
All these applications and more are available in the Counseling Center.
CAP & GOWN INFORMATION: Jostens will be at Tuscola April 20th and 24th to distribute caps and gowns. If you haven't paid, they are only accepting cash on April 20th; you can pay online before April 20. If you have questions, see Ms. Jones in the front office.
SUMMER OPPORTUNITIES
Applications for NC State's Design Camp are due 

TOMORROW

 

Saturday, March 24th

.
Tar Heel Boys' State is a week-long leadership program focusing on state law and government. Male students who will complete their junior year by this summer are welcome to apply. If you have questions, talk to Mr. Collins—He's a graduate of the program! More information, and applications, are available in the counseling center.
Finally, Seniors: the Great Smoky Mountains National Park is offering two Fisheries Internships that will run from 

July 23-October 12

. Interns will work with a team of federal, state, and private biologists, and well as university researchers. Information is available in the counseling center. Hours are flexible. See Ms. Dove for more information.