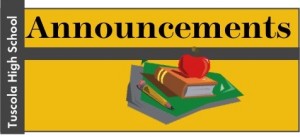 ACT MAKE-UP:
Students making up the ACT should report to the Media Center after announcements.
2018-2019 COURSE REQUEST SHEETS:
Students returning to Tuscola next year who did not get their course request sheets in home room last Friday should come by the counseling office to pick those up today. Those must be filled out and signed by a parent or guardian before March 13th. Stay tuned for details.
HCC ELIGIBILITY FOR 2018-2019:
Students who have turned in an HCC Eligibility form should have received a Remind message yesterday afternoon letting them know to come by the Counseling Center between 9-12 TODAY. If you turned in an HCC Eligibility form and DID NOT receive a Remind message, you must join your grade-level Remind group TODAY in order to receive further instructions.
SENIORS:
Seniors who are having pictures made with Ms. Bates at HCC on Friday need to pick up a permission slip in B2 today. Also, if you did not get proofs for you cap and gown photos, Ms. Bates has those.
SPORTS NEWS:
Varsity Baseball won 4-2 over N Henderson with a 2-run homer by Will Smathers. Congratulations Varsity Baseball!
Congratulations also to the Varsity Soccer team on their 9-0 win over N. Henderson last night! (Practice location will be determined near lunch time today.)
SPRING ATHLETES:
Do NOT move your vehicles to the Fieldhouse or Cafeteria are before leaving for away games. They are causing traffic flow problems for buses and other vehicles. Leave your cars parked in the student lot.
CHORUS:
Tuscola High School Choruses will perform a pre-festival concert TONIGHT at Long's Chapel at 7:00pm. This is a free preview of their performance for the North Carolina Music Assessment.
BAND:
Tuscola Bands will be performing Thursday night at 7PM in the auditorium.
NEW SCHOLARSHIP INFORMATION:
The Charles Edward Cathey Masonic Scholarship is now available to 8 students who have a minimum GPA of 3.0 and exhibit outstanding scholastic achievement, participation in civic activities, and involvement in their communities.  Stop by the counseling Center to review guidelines. Students do not need to have relatives involved with the Masons. Completed applications and (2) letters of recommendation must be mailed by March 15.
Just a reminder that the Haywood County Schools Foundation Scholarships are due next Monday–March 12th–by 3pm!  If you are having any problems with the application or you have questions – the counselors will be available TODAY during 2nd lunch!  Please do not let this great opportunity pass you by!!!
All JROTC students, or those interested in a federal service academy or military college, should consider attendingDISCOVER THE CITADEL Day on April 20th, at The Citadel of Charleston, South Carolina. Information is available at the Counseling Center or online at citadel.edu
The UNC Eshelman School of Pharmacy host a day-long look at careers available through pharmacy at EXPLORx, at UNC-A on Saturday, April 14. This all day event includes student panels, professional development, and admissions information. Participation is free. Interested students should register online by April 4th. Come by the Counseling Center to learn more.
Senior girls applying to Wofford College for early decision who are in the top 10% of their graduating class should stop by the counseling center to learn about the Wofford Scholars Program, for the possibility of getting a scholarship of $10,000 or more.
DRIVERS' ED
Drivers' Ed class for March has been postponed, and will begin on APRIL 23rd.
SUMMER OPPORTUNITY
Female students of all ages who are interested in attending the Columbia College Summer Leadership Institute for a week in July should contact their Academic Counselor about getting a referral. Nominations are due at the end of this month.