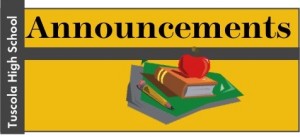 2018-2019 COURSE REQUEST SHEETS
Students returning to Tuscola next year and who did not get their course request sheets in home room on Fridayshould come by the counseling office to pick those up today. Those must be filled out and signed.
You will be entering your requested classes into powerschool on either March 13th or March 14th. Stay tuned for details.
SUMMIT CHOIR UPDATE:
STUDENTS who have not completed the choreography portion of the audition should come to the chorus room todayduring 1st lunch. See or call Ms. Brown in the chorus room if you have questions.
Results for Summit auditions will be announced by letter soon.
Finally, Tuscola High School Choruses will present will perform a pre-festival concert at Long's Chapel on 

Tuesday, March 6, at 7:00pm

 in preparation for the North Carolina Music Performance Assessment. There is no charge for admission.
SENIORS
The following seniors need to see Ms. Bates in B2 ASAP: Zamir Adams, Daniil Ivanov, Crystal James, Parker Sykes, Dakota Warren and Dylan Watty.
All JROTC students, or those interested in a federal service academy or military college, should consider attending DISCOVER THE CITADEL Day on April 20th, at The Citadel of Charleston, South Carolina. Information is available at the counseling center or online at citadel.edu
Senior girls applying to Wofford College for early decision who are in the top 10% of their graduating class should stop by the counseling center to learn about the Wofford Scholars Program, for the possibility of getting a scholarship of $10,000 or more.
Just a reminder that the Haywood County Schools Foundation Scholarships are due one week from today! Monday – March 12th by 3pm!  If you are having any problems with the application or you have questions – the counselors will be available TODAY during 1ST lunch and tomorrow Tuesday during 2ND lunch!  Please do not let this great opportunity pass you by!!!
DRIVERS' ED
Drivers' Ed class for March has been postponed, and will begin on APRIL 23rd.
SUMMER OPPORTUNITY
Female students of any age who would like to be nominated to attend the SUMMER LEADERSHIP INSTITUTE at Columbia College, SC, should stop by the counseling center to see if they qualify.