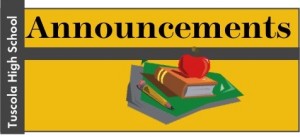 All students returning to Tuscola next year will meet with their graduating class in the auditorium next week to talk about the registration process.  These mandatory meetings will be as follows:
Junior Class Meeting will be Wednesday – February 28th – during 1st lunch.
Sophomore Class Meeting will be Wednesday – February 28th – during 2nd lunch.
Freshmen Class Meeting will be Thursday – March 1st – during 1st lunch.
Students will be excused from study hall for these meetings.
Students interested in being a Media Assistant or Peer Helper, working with Annual Publications, or taking classes through HCC or NCVPS should check the Tuscola website for applications for next school year. Interested students must fill out an application and submit it to the appropriate person by Friday – March 2nd.
ATTENTION SENIORS:
As you receive scholarships, please stop by the Counseling Center with your award notification letters. Dove keeps a list of all scholarship monies awarded.
**New Scholarship Information: If you are the dependent of an honorably discharged veteran living in the state of North Carolina, you may qualify for the North Carolina Veteran Officers Memorial Scholarship. The deadline for that application is March 1st. More information is available in the Counseling Center.
Also at the Counseling Center: February's SCHOLARSHIP INFORMATION SHEET.
EAST TENNESSEE STATE UNIVERSITY is hosting an information session for prospective students Next Monday, February 26TH from 5:30-7:00pm in Asheville at the Crowne Plaza Resort. You must register to attend. Find out more in the counseling center, or register online through the ETSU website.
IN CLUB NEWS:
The spirit club card WILL NOT work at tonight's girls' basketball game.
Student tickets will be $6.00 — The game starts at 6pm.
The following clubs will be photographed after homeroom NEXT Friday (3/2) in the big gym: Sportsman, HOSA, FCA, Key Club, Fly Fishing, Debate, Spirit Club, Unified Basketball, SWAT TEAM, Four Square, and Girl Up.
Auditions for 2018-2019 Summit, Tuscola's Advanced Choir, are currently underway. Pick up an application from Ms. Brown in the chorus room.
Spring and Summer job opportunity: Waynesville Parks and Recreation is now hiring part-time lifeguards. You must be at least 16 years old and possess current lifeguard certification. Check out WaynesvilleNC.gov for more information.