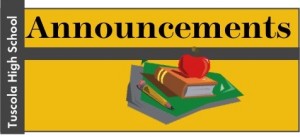 WORKKEYS TEST INFORMATION
All students should report to 1st period for attendance.
After these announcements and our Pledge of Allegiance, students should report to their testing site.
REMEMBRANCE GATHERING
TODAY at 5:30 THS students, staff and community members will gather to for a birthday remembrance of Elira Bego-Cardoso. Elira passed away in January. She was a freshman.
We will gather in front of the band tower in the parking lot, a place where spent so much of her time her at Tuscola, practicing for marching band.
Students are bringing cake, canned drinks, plates, napkins, and forks. If you would like to contribute, you may do also do so.
CHECK-OUT POLICY REMINDER—
In order to check out from school you must have . . .
a signed parent note turned into the Office by 8am.
OR the school must receive a fax or email from your parent or guardian.
You may not check out during lunch unless you have a doctor's appointment, and you must return to school with documentation of that meeting.
GIRL UP, the United Nations Foundation adolescent girl campaign, empowers young women to stand up, do what's right, and change the world. An interest meeting for the Tuscola High School Chapter of Girl Up will take place on February 20, 2018, from 3:300-4:00 in room F-2
Introducing the NERD HERD. Having problems with your computer or school apps? Come to room E-3. "Like a good technician, Nerd Herd is there!"
New Scholarship Information: Haywood Community College has applications available for a new merit scholarship of $10,000 for two years. Applications are available in the counseling center. If you have any questions, you can meet with Mr. Johnson in the counseling center as well.
Seniors interested in becoming teachers: Western Carolina University Scholarship information is available in the Counseling Center.
College-bound Seniors should also be researching scholarships through the North Carolina Schools Foundation. Check the Tuscola "Seniors Lounge" webpage for more information on those and other scholarships, or stop by the Counseling Center.
Auditions for 2018-2019 Summit, Tuscola's Advanced Choir, will be held February 19 – March 1.  Summit is open to next school year's 10th – 12th graders who pass a musical audition. Summit members must have either been enrolled in chorus or have a music teacher recommendation. Anyone interested in auditioning should see Ms. Brown in the chorus room for an information packet and application.
ALL STUDENTS PLANNING TO PARTICIPATE IN SPRING SPORTS —- You must have a current Sports Physical on file at Tuscola. If you have not had a sports physical within the past year, pick up your form today in the front office.
WOMEN'S TRACK: practice begins tomorrow.
BASEBALL—Tryouts are Wednesday and Thursday.
SOFTBALL—Tryouts will be Wednesday at 3:45.
ATTN: JUNIORS–The ACT is on February 27th. Tutoring session are available through TEST NINJA—pick up forms in the Counseling Center
YEARBOOK–The last day to purchase a personalized yearbook is February 20th. We will continue to sell yearbooks at school until we run out! Reserve your copy for a down payment of $20. See Ms. Bates in B2.