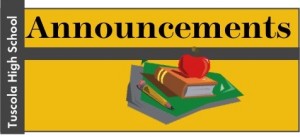 ATTENTION: Health Science Students:
If you are interested in Nursing Fundamentals for NEXT year, go the THS website and complete the Nursing Fundamentals application. The deadline for the application will be February 2nd. If you have any questions, please see Mrs. Burgin or Mrs. Garner.
All girls interested in playing Soccer this spring need to come by room B-4 and see Coach Melville and pick up the pre-season schedule! You must have a current physical on file in order to participate in pre-season workouts or to tryout. Tryouts begin Wednesday, February 14th (announce until Jan. 12th).
NC STATE 2018 Design Camp Registration Opens this Thursday, January 11th at 9:00 a.m.!
Be among the first to register for this summer's annual camp! As we head into our 38th year of camp, we look forward to welcoming new students to the world of design this summer!
Go to link: design.ncsu.edu/designcamp. The deadline for application is March 26th. Early application is still encouraged!  Those needing financial assistance are encouraged to apply. You may submit your request for financial assistance within the Design Camp application.
Seniors – This is to inform you that a new scholarship sheet is available in the Counseling Center and online.  There will also be an opportunity for seniors and parents to meet with Laura Misner from College Foundation of North Carolina for a workshop called "I've Filed My FAFSA – Now What?".  The workshop will talk about how to read financial aid packages, scholarships, types of loans, etc.  The workshop will be held on Monday – January 29th at 5pm in the Media Center.
Juniors – There will be a workshop for students and parents on Monday- January 29th at 6:00pm in Tuscola's Cafeteria.  This event is designed to prepare students for college and inform you of steps that need to be taken this Spring and Summer before your Senior Year.  A representative from the College Foundation of North Carolina will be here to discuss college applications, residency determination, and financial aid information.  This event is very important for those planning to go to trade schools, 2-yr schools and 4 yr schools.