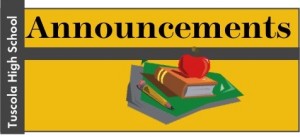 A Representative from East Tennessee State University will be in the counseling center TODAY, December 6th during both lunches.
On Friday December 8, we will be having a class meeting for 10th grade students. If you have a 10th grade HR, please escort your students and stay with them in the auditorium at 11:05 through 11:35. 10th HR teachers, please spread out to help manage student behaviors. If you are a 10th HR teacher and sponsor a club that meets on the first Friday, you should convene your club as planned.  All 10th graders must attend, even if they are in a club at this time.
Students, we are getting ready to consider schedule changes for second semester.  There will be an online Google Form that students will fill out to request a schedule change.  This Google Form will be open on December 8th – December 13th at 8am.  Students should read carefully the reasons that schedule change requests will be considered.  A response to the request will be given through REMIND so it is required that students sign up through REMIND based on your current grade level.  You may sign up for REMIND using a phone number for text alerts or through your email.   If you need assistance in getting connected through REMIND or completing a schedule change request, please come to the Counseling Center.
Progress Reports are going home today!
Seniors: Nominations for superlatives and senior quotes can be submitted to Publications using your school email via Google Classroom. The code for the classroom is juu40 and is on the senior Remind and Yearbook Twitter. Please nominate by Thurs, Dec 7th and submit quotes by Thurs, Dec 14th. See Ms. Bates in B2 if you have any problems.
Tuesday, December 19th will be Ugly Christmas Sweater Spirit Day as the Mounties travel to conference opponent, West Henderson. The Math Club will be judging those Ugly Sweaters during both lunches and awarding prizes to the ugliest sweater!  $20 for 1st place, $10 for 2nd, and $5 for 3rd!
The Football Awards Night will be Monday, December 11th at 7:00 pm in the school cafeteria. All Varsity and JV Football players please plan to attend. Parents, relatives, friends and supporters are invited. –Coach Pursley