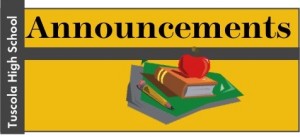 HCC Spring Student Schedules are available to be picked up in the counseling center. Students may see Mr. Johnson or Mrs. Christopher to pick up schedules!
Students, there are a number of students that are sitting in the senior section. This area of the cafeteria is reserved for seniors and their invited guests. Students not sitting with seniors should sit in a different area of the cafeteria.
Attention Seniors! On Friday, December 1st, Josten's will be in the lobby during both lunches for those who ordered class rings…and to take cap and gown orders!
A representative from East Tennessee State University will be in the counseling center on Wednesday, December 6th during both lunches.
The new Ingles in Hazelwood is opening December 13th.  They are expected to hire between 20 to 30 cashiers. Also, if new hires work at the Starbucks or in the deli, you will make more money.
The wrestling team did well at a tournament before Thanksgiving. Jack Logan placed 2nd, Gavin Tannerhill & Patrick Coulter placed 3rd, Hunter Trull & Drew Gilland placed 5th.