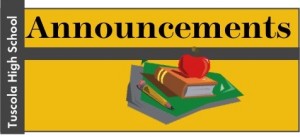 Congratulations to Tuscola Swimmers!  THS outscored Asheville High by 1 point.  We are so proud of all the swimmers and their efforts!
Friday is World Prematurity Day and THS's Key Club (along with the March of Dimes) would you to wear purple to show your support!
Trivia question of the Day:
When can Seniors start applying for Financial Aid for college?
The answer is October 1!