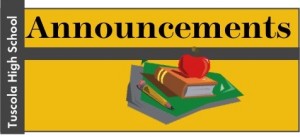 Winter Track practice begins today, November 14th.  Meet at track-weather permitting! You must have a current physical to participate!
A College Rep from Montreat College will be here today from 11-12 for both lunches in the Counseling Center!
Friday is World Prematurity Day and THS's Key Club (along with the March of Dimes) would you to wear purple to show your support!
Seniors – This is just a reminder that College Application Day is tomorrow!  Remember to wear your college shirt!  You will be called to the media center with your homeroom class.  A list is posted beside the Counseling Center door.
Here is the College Trivia Question for Tuesday:
What is the oldest college in the United States?  HARVARD