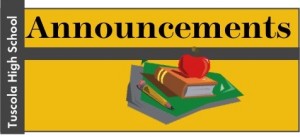 Winter Track practice begins Tuesday, November 14th. Meet at track-weather permitting! You must have a current physical to participate.
College Application Day 📣 (Wednesday – November 15th) is fast approaching!!!  Here are some important reminders:
Seniors can prepare by completing a CFNC packet. Th​e​se are available in the Counseling Center and have also been sent to your teachers.
There is a list of colleges that are waiving their college application fee for next week. Teachers have a copy of this as well and it's posted on the Counseling Center window!
Seniors will be asked to come to the Media Center with their homeroom throughout the day on Wednesday! Those teachers with senior homerooms – we have scheduled your homeroom to come to the media center during your planning period so that you can join us, help with your students, and encourage them in this process. ​
A College Rep from Montreat College will be here tomorrow from 11-12 for both lunches.