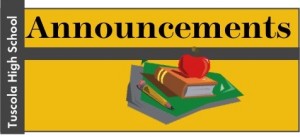 HAPPY COLLEGE APPLICATION MONTH!                                                                  This week is the second week of college application month!   Seniors will prepare this week to apply by getting their CFNC accounts ready!  Staff & students please wear your favorite college mascot shirt & jeans on Wednesday in celebration of this event.
On November 9th, is the SWAT Team's annual Night in a Box. Anyone interested in raising money for people who can't afford heat, please see Ms. Shipman in room B-9. Any faculty member interested in chaperoning, please contact Ms. Shipman.
On Wednesday, November 8th and Thursday, November 9th, we will be meeting with all 9th graders in the Media Center.  An Excel document was emailed to teachers, along with instructions.  Please print out and post in your classroom, Also, the alpha lists by period are posted outside the Counseling Center.
Winter Track practice begins next Tuesday, November 14th. Meet at track-weather permitting! You must have a current physical to participate.