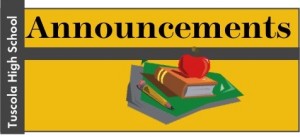 This week's Spirit Days: Wednesday is Rock Star Day; Thursday is Nerds vs. Preps Day. Friday is a workday, but the game will start at 7:00 as normal. Join the student section on Friday to cheer on the Mounties as they take on North Buncombe High School. It will be Neon Night student section! Your 2017 Homecoming Queen will be crowned at halftime.
Fields of Faith will be TONIGHT, October 11th at 6:30pm in Tuscola's auditorium. Everyone welcome to join as we take a stand alongside hundreds of thousands of students across the U.S. and the world who will gather to share their testimonies and encourage each other in their faith.
The College Fair at HCC is Thursday, October 12th from 6:00-7:30pm in the HCC Auditorium.  Various colleges will be there to discuss questions with parents and students regarding admissions, scholarships, campus life, etc. Andrew Johnson is available in the THS Counseling Center as a career coach and will help students prepare for this event!  This is a great opportunity for students to meet with college representatives!
Any Senior interested in Lenoir-Rhyne University and planning to major in Education, please see your counselor by Wednesday, October 11th before 3:00! This is an important scholarship opportunity!
The Veterans of Foreign Wars has its annual "Voice of Democracy" audio-essay competition underway.  VFW Post 5202 in Waynesville is sponsoring the local competition, that will ultimately offer the potential of district and state level, up to the national level awards to selected winners at each level.
In general, the competition is open to 9th, 10th, 11th, and 12th grade students enrolled by the 31 October 2017 deadline.  For more information, come to the counseling center!
UNC-Asheville is offering SAT Preparation Classes on October 9th-25th OR November 6th-21st.  Cost is $295. Pick up more information in the counseling center!
Boys and Girls Basketball Tryouts will be held on Monday, October 30th.  You must have a physical before you can try out.
There is canned food drive going on sponsored by Leo Club and Key Club to bring relief to the victims of Hurricane Maria. Please bring non-perishable items and canned food to your 1st period classes and they will be picked up during 1st period on the 28th!