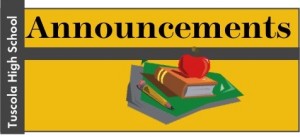 Guidance Counselors will be meeting with the rest of our Juniors today in the Media Center. A list of names with class times are posted on the window next to the counseling center door. Also, teachers an email went out with that list!
Friday's Spirit Day is "Under the Sea Day"! You can dress up as anything sea or ocean related- sea animals like fish or sharks, mermaids, pirates, lifeguards . . . just no Baywatch bathing suits 🙂 Use your imagination and support the Mounties as they travel to conference opponent Asheville High School Friday night.
We are proud to announce Tuscola's October Rotary Students of the Month!
Congratulations to Sophia Masciarelli and Hannah Litty!
Fields of Faith will be Wednesday, October 11th at 6:30pm in Tuscola's auditorium. Everyone welcome to join as we take a stand alongside hundreds of thousands of students across the U.S. and the world who will gather to share their testimonies and encourage each other in their faith.
Makeup picture day for students and staff is all day on Thursday, October 5th. Students can pick up forms in B2 or the office.
Attention All Substitute Teachers! Please call Cindy Smathers at ext 6015 with your 1st period attendance. If you can't get through, leave a message!
Financial Aid Night will be held on Monday – October 9th at 6pm at the Regional High Tech Center Auditorium.  This event is for Juniors and Seniors to learn more about the Financial Aid process and the FAFSA application.  Please make plans to attend!
The College Fair at HCC has been rescheduled to Thursday – October 12th from 6:00-7:30pm in the HCC Auditorium.  Various colleges will be there to discuss questions with parents and students regarding admissions, scholarships, campus life, etc. Andrew Johnson is available in the THS Counseling Center as a career coach and will help students prepare for this event!  This is a great opportunity for students to meet with college representatives!
Anime Club will meet Friday, October 6th in Mrs. Kea's room E9. The meeting will last until 4:00 pm.
Staff, Rite Aid will be in the counseling center on today, October 5th from 2:00-4:00 pm to give flu shots. Please sign up in the mailroom this morning, so we can give them an account of how many shots to bring!
Envirothon team members:  Please see Mrs. Miller to sign the Envirothon roster Wednesday or Thursday.  You will get a Remind message for our next meeting.  If you haven't signed up for Remind, get the access code from Mrs. Miller.
The Veterans of Foreign Wars has its annual "Voice of Democracy" audio-essay competition underway.  VFW Post 5202 in Waynesville is sponsoring the local completion, that will ultimately offer the potential of district and state level, up to the national level awards to selected winners at each level.
In general, the competition is open to 9th, 10th, 11th, and 12th grade students enrolled by the 31 October 2017 deadline.  For more information, come to the counseling center!
For those interested in the Science Olympiad Club, our first official meeting will be next Tuesday, October 10th at 3:10.  See Mr. Davis in room C-7 for more information and to sign up!
UNC-Asheville is offering SAT Preparation Classes on October 9th-25th OR November 6th-21st.  Cost is $295. Pick up more information in the counseling center!