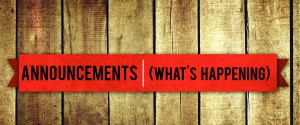 Spirit Day is Thursday this week…It will be "TV Character Day!"
Support your Mounties as they play at A. C. Reynolds.  This will be a televised game with Kick-Off at 7:00 pm!
Josten's will be returning to take more class ring orders on Friday, September 29th during both lunches! Packets are in the front office.
Hope for Haywood hosted by FCA and Pray for Haywood will be held on September 27th at 7pm at CE Weatherby stadium. Guest speaker will be Johnny Evans…Former NFL and Canadian Football, All-American at NC State and Eastern Director of Fellowship of Christian Athletes!
See You At the Pole will be September 27th at 7:25am at the Memorial Garden flag poles.
Fields of Faith will be Wednesday, October 11th at 6:30pm in Tuscola auditorium.
Makeup picture day for students and staff is the morning of October 5th. Students can pick up forms in B2 or the office.
A representative from Gardner-Webb University will be in the counseling center during both lunches on Wednesday, October 4th for interested students!
Attention 10th and 11th grade students:  There will be Governor's School information session at the EC in Clyde next Tuesday, 9/26/17 at 6:00pm.  Parents are encouraged to attend with their student!! Haywood County Schools attendees from last year will be presenting briefly on their experiences.  You can find the complete nomination packet at
http://www.ncgovschool.org/
THS will be offering another opportunity to answer questions about Governors School for students the next day, Wednesday 09/27, in the Media Center during both study hall periods.
If students cannot attend any of these sessions, please see Ms. Plott.
The Army National Guard will have a representative in the lobby during both lunches for interested students on Thursday, September 28th.
College Fair is Thursday, October 12th at HCC from 6:00-7:30 pm.
THS swimmers: Bring your completed registration packet to Coach Miller, Room C-11 by Wednesday, September 27th.
An FBLA informational meeting will be held on Thursday, September 28th during lunch in D-9.  For those who have 2nd lunch, a meeting will be held at that time in D-9.  In other words, the meeting does NOT last both lunches.  Come join us and see for yourself what Future Business Leaders of America is all about!
The National ART Honor Society will have its first mandatory meeting this Thursday the 28th after school in Mrs. Kea's room E9.