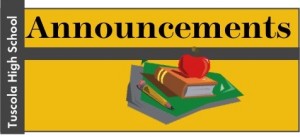 Todays Spirit Day is Jersey/Favorite Team Shirt Day
Support your Mounties as they play away at N. Henderson!
Mrs. Kea would like to invite any student that has taken at least one semester of Art to come be a part of the National Art Honor Society.  Stop by her room in E9 all this week to get an application.  Applications are due Monday, September 19th.
All students interested in swimming for THS, please stop by the lobby during lunch, Friday, Sept. 15 or Monday, Sept 18 and pick up a registration packet and a pre-season swim clinic brochure.  Meet the coaches and the captains.
Key Club will have it's first meeting of the year NEXT Tuesday, Sept 19th.  Any student interested in joining is welcome.  Key Club is a service-oriented club associated with Kiwanis Club of Waynesville.  We will be establishing ballots for elections during this meeting as well so please plan to attend if you are interested in the club.  And there will be cookies!!  Right after dismissal on Tuesday, Sept 19 in Ms. Smiley's room (A7).
Any Senior who would like to be considered to be THS's 2017-2018 nominees for the Park, Roan, or Morehead-Cain Scholarships please remember the deadline to have your information turned into the Counseling Center is next Tuesday 09/19/18.
Josten's will be returning to take more class ring orders on Friday, September 29th during both lunches! Packets are in the front office.
Anyone needing a spirit card made or a replacement one come to the front office right after school.