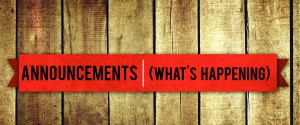 Seniors – There will be a meeting during both lunches in the Media Center on today – September 8th to discuss scholarships.  Please make sure you attend to learn more about the Park Scholarship, Morehead-Cain and ROAN scholarships, as well as others!  The Counselors hope to see you there!
On Wednesday, September 13, THS Counselors will be meeting with all seniors in small groups in the Media Center.  This is an opportunity for students to be reminded of who their counselor is, and gather lots of important information for this all-important senior year.  This is also a time for the counselors to find out what each student's plan is for next year, career, military, community college, college, etc.
ANY HIGH SCHOOL SENIORS who might be interested in applying to West Point – time is getting short as the Nomination process is open NOW – SO YOU NEED TO BE AT THIS MEETING:
What:  West Point Admissions Information Night
When:  Thursday, September 14th 2017 at 6:30pm
Where:  Christ School, Pingree Auditorium, 500 Christ School Road, Arden, NC
Who:  ALL Students and their parents interested in applying to West Point as well as High School Counselors and anyone else interested in learning about either the Army ROTC Scholarship process or the United States Military Academy Application process
The Annual College Fair will be held at HCC Auditorium on Monday – September 11th from 6-7:30.  Over 50 colleges will be represented-for juniors and seniors to talk with about admissions, scholarships, and college life.  Andrew Johnson is available in the THS Counseling Center as a career coach and is willing to meet with students to prepare them for this event.  Please take advantage of this great opportunity to meet with college representatives!  Everyone including staff is encouraged to wear your favorite college T-shirt/Sweatshirts and Jeans on this day!
Today's Spirit Day is Tacky Twin Day
Support your Mounties as they take on Enka at Home in their first conference game.  New start time is at 7:00 pm and NOT 7:30!
Mrs. Kea would like to invite any student that has taken at least one semester of Art to come be a part of the National Art Honor Society.  Stop by her room in E9 all this week to get an application.  Applications are due Monday, September 19th.
Open mats for wrestling will start today, September 8th in the matroom (C9). They will be Monday's 3:20-5:00 pm and Fridays 3:20-4:00 pm. You must have a current physical on file. See coach Reece in room B-18 if you have questions.
Today we will ALL go to homeroom as usual per the Friday schedule. 10th graders will go to homeroom and VOTE and then 10th grade teachers will accompany their homeroom to the auditorium to meet with Jostens.
Teachers, Please check your boxes for homecoming ballots and have your students to vote during homeroom and then drop off the ballots to either Mrs. Burgin in D5 or Mrs. Smathers in A1.
Any student interested in participating in the Sportman's Club, need to go by Mrs. McElroy's room (F-8) immediately after school today or you may come before or after school on Monday!
Debate Club will hold its first meeting for all who are interested on Wednesday, Sept 13 in Ms. Smiley's room (A7) right after school.  Anyone who is interested in seeing what Debate Club is all about please plan to join!