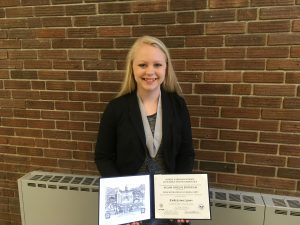 This summer, Emily Sears, class of 2017, will be displaying her recently earned THS diploma along with a certificate of recognition from the North Carolina School of Math and Science (NCSSM) in Durham.
Emily has been dual-enrolled at THS and NCSSM for the past two years. She has had the opportunity to study classes like Forensic Science, Genetics and Biotechnology, 21st century Media Study, Ecocriticism, Epidemiology, and Western Political Thought. For these classes, Emily went to the online lab in D building and complete her course work in an online platform.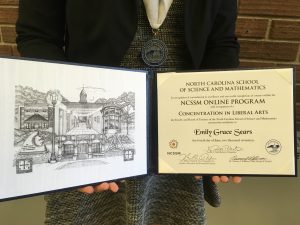 Once a semester, she traveled to Durham to NCSSM for on-line weekends, where all online students from across the state would gather for labs and seminars. Before studying Forensics, Emily had considered specializing in this field. After taking a class however, she realized that was not the path for her.
Emily reflected that she was able to study a number of different types of classes, even topics from the Humanities field. All of these classes were geared like college classes, especially the writing. Emily learned through NCSSM that "everyone's opinion matters, even if you do not agree with someone."
One big adjustment for Emily was working in the online format. Specifically, time management, was a struggle at first. She credits learning planning and pacing skills from her online classes.
"The community at NCSSM is centered on learning and high achievement level. Much like a college campus, you are expected to work to your fullest ability and strive for excellence. The community helps all the students be elevated to this level."
Emily will take the skills learned at NCSSM and THS to Queens University of Charlotte this Fall. We wish her continued success!