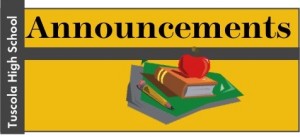 GENERAL INFORMATION
Mrs. Miller's classes will meet in the front computer lab today!
Attendance Appeal forms are due to the office by Friday, May 26th. No forms will be accepted after that date.
We will be having home room this Friday at the end of first period to go over the obligations list. Home room teachers, please check every student on this list.  You will be able to see the list in google doc…Mr. Perry needs any additions are deletions by the end of today.
Wednesday, May 31st will be the day we celebrate college & military signings for our seniors.  Juniors and Seniors will gather in the big gym during T-time.  All students and staff are encouraged to wear their college/armed forces t-shirts and jeans on this day.  See Mrs. Christopher if you have any questions.
If there are any seniors who picked up a Lions Club Scholarship application and live in the Maggie Valley or Jonathon Valley area, those applications are due by Thursday, June 1 to the counseling center!
We are celebrating 3 Cheerleaders signing to Cheer in College:
Congratulations to Brooke Cole signing with Lenior-Rhyne University
Gracie Jenkins and Carlee Sutton signing with Western Carolina University
We will be honoring these three ladies on Tuesday, May 30 during T-time!