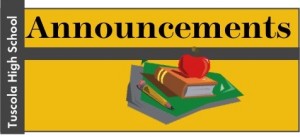 GENERAL INFORMATION
Important announcement about the Academic Awards program scheduled for tonight at 6:30:  There will be a brief practice for the students who RSVP'd to attend. Please report immediately to the auditorium when T-time bell rings, thank you!
CTE honor cords are here. Please come to D5 to pick them up.
FREE ANNUAL SPORTS PHYSICALS: Haywood Regional Health & Fitness Center Thursday, May 25th at 5:45 pm! Pick up your registration packet in the front office. Please bring completed packet with you. It is not necessary to sign up for an appointment!
Attendance Recovery Sessions continue on Tuesdays/Thursdays from 3:15-6:05 pm. Sign up in the main office.  Sessions cost $5 per afternoon.  Students must make up absences 7,8,9 for each class.
For students with 10 or more absences, they must complete an appeal form, which is also available in the main office.  Teachers have the most up to date information, so check with them if you have any questions.
Congrats To the following students for passing the CNA exam on Saturday:
Lindsey Goodson, Gracie Jenkins, Hannah Lanning, Alexa McCall, Rebecca Nelson, Haleigh Smith, Annalise Steele, Carlee Sutton, Brent Turner, and Chloe Williams!
There will be meeting in the auditorium with rising seniors about their summer senior portraits to be scheduled for this summer on Tuesday, May 16th during T time!
Any current 9th or 10th grade student interested in taking the PSAT on Wednesday October 11th(next school year) please bring $16 to Mrs. Christopher in the Counseling Center. This is practice test for the SAT. 10th graders( rising 11th graders) this test is used by scholarship programs, including the National Merit Scholarship Program to look for eligible students.
Yearbook Day will be Friday, May 19th!
COUNSELING CENTER INFORMATION
Mr. Matt Heimburg, Dean of Haywood Community College's new Associate in Engineering program, will be on campus Wednesday, May 17 to present information about the college transfer engineering program and courses available at HCC.  The Associate in Engineering provides a pathway into the five University of North Carolina system engineering programs and may lead to a wide variety of professional engineering careers.  Students from any grade level considering a career in the field of engineering are encouraged to attend. Mr. Heimburg will meet with any interested students in the media center during T-time on May 17th.
Soccer at Tuscola: 3rd Round Playoff Match vs Marvin Ridge HS is scheduled for 6pm Wed 5/17 at CE Weatherby.