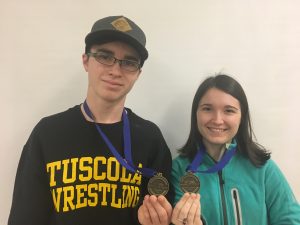 Breyden and Autum Satterfield successfully claimed gold medals for their first place finish in the Write It Do It competition. Write It Do It was part of the North Carolina Regional Science Olympiad Tournament held in Asheville, NC.
Write It Do It is an event that requires a pair of competitors to clearly communicate. One team member prepares a set of instructions describing a given structure. The other member is given their partner's instructions and an unassembled structure with a mission of attempting to build the structure as accurately as possible.
The winning sister and brother team are members of Tuscola High School's Science Olympiad team. "Both Autum and Breyden have a great attitude and actively participate in science activities at Tuscola" said Jim Davis, Science Olympiad Head Coach at Tuscola High School. Autum Satterfield is also CoPresident of Tuscola's Science Club.
On April 22 the Satterfields competed in the State Tournament at Raleigh, NC. The Haywood County Schools Foundation provided support to assist with travel cost. The Tuscola Science Department is proud of the achievements of this sister and brother team.