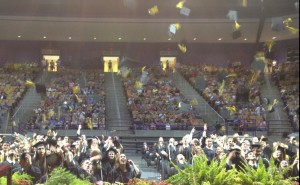 GUIDELINES FOR A "CLASSIC" MOUNTAINEER GRADUATION & IMPORTANT DATES!
TO:​TUSCOLA HIGH SCHOOL 2017 Graduating Seniors and Parents
FROM:​Travis Collins, Principal
​Carol Fox, Assistant Principal
​Alex Masciarelli, Assistant Principal
​Jacob Shelton, Assistant Principal
​Sherri Christopher, Graduation Director/Coordinator
SUBJECT:​Important Dates/End of Year Schedule/Graduation and Baccalaureate Exercises
​
DATE:​April 21, 2017
The following information will be both helpful and necessary as we conclude your last year in high school. Please note the following schedule and details of upcoming events:
Tuesday, May 2nd: Josten's will be here to pass out graduation supplies during both lunches.
Tuesday, May 9th:​Senior Class Picture – 1:30 p.m. – Be in the gymnasium dressed and ready
​in graduation cap and gown and return to class!
Tuesday, May 23rd:​Visit Elementary School – Seniors will have the opportunity to go visit their
former Elementary School and teachers in their graduation attire! More info later.​
Monday, May 29th:​Holiday-No School
June 2nd, 5th, 6th, 7th: Exams
June 8th: Make-Up Exams & last day of school!
Sunday, June 4th: Baccalaureate Service – 3:00 p.m. at Long's Chapel United Methodist Church
Be at the church at 2:00 PM in GOWN (NO Cap for this event) – appropriate dress is required. While you are not required to attend this service, members of your senior class have worked extremely hard to provide a service that will be meaningful to all who attend. This service is an opportunity to reflect on the past 13 years of school and express appreciation to those who have helped you along the way. The Special Guest Speaker is Tyler Trantham. Light refreshments served afterwards. This is a great opportunity for pictures with your friends & family!
Thursday, June 8th: Graduation Rehearsal for Seniors and Junior Marshals – 1:30 p.m.
Seniors will be seated in the Gym for Graduation Rehearsal. This rehearsal will last until everything goes smoothly! Anyone absent from this rehearsal will not be allowed to participate in the graduation ceremony on Saturday.
DO NOT BE LATE FOR PRACTICE or GRADUATION!
Friday, June 9th: Teacher Work Day – No School
Saturday, June 10th: Graduation – 11:00 a.m. – WCU Ramsey Center – Seniors are to report to the AUXILIARY GYM AREA in the Ramsey Center no later than 10:00 AM and should line up alphabetically, as practiced. Enter the Auxiliary Gym from the Lower Level.
Look for the AUXILIARY GYM signs at the outside entrance doors.
GRADUATION Ceremony begins promptly at 11:00 a.m.
PROPER DRESS FOR BACCALAUREATE AND GRADUATION
​MEN:​Must wear … ​ White shirt
​ Dark Tie
​ Black Dress Pants
​ Black Dress Shoes
​ Black Socks
​WOMEN:​Must wear … ​
Black Dress OR Skirt OR Black Dress Slacks and Black Top
​ Black Dress Shoes/Sandals – NO FLIP-FLOPS
NO Jeans, NO Shorts, NO Patches or other items on CAPS or GOWNS. NO Sunglasses, NO Gum allowed. NO beach balls. NO air horns. If you have any doubt about what is appropriate dress, ask before GRADUATION. If you have difficulty acquiring any of the above items, please contact an administrator or Mrs. Christopher.
Seniors who fail to follow established guidelines will not be permitted to participate in the GRADUATION EXERCISE.
Diplomas Covers only will be given out during the graduation ceremony. Diplomas, transcripts, and report cards will be in a packet to be picked up at THS starting on Wednesday, June 21st and throughout the summer office hours. The office will be closed July 4th week!
SPECIAL NOTE TO SENIORS:
This is a graduation exercise of Tuscola High School in which you have been invited to attend and take part. We are committed to making it a VERY SPECIAL CEREMONY. We need EACH Senior's TOTAL cooperation in making it an EVENT YOU WILL BE PROUD OF!!!
---
DIRECTIONS TO WCU – RAMSEY CENTER
http://www.wcu.edu/ramsey/ for driving and parking information
Leaving Waynesville, follow 19-23 until you get to Sylva and take Exit 85 to Western Carolina University. Go to the 3rd stoplight and turn left. This will be Highway 107. Follow 107 for approximately 6 miles. When you come to the stoplight where WCU is on your left, continue on Highway 107 through the stoplight, then take the next left-hand turn. The Ramsey Center will be directly on your left.
HANDICAPPED GUESTS can enter from the lower level and take an elevator to the main arena OR drive to the upper level (front) where handicap parking is available, and there is easy access to the main arena.
EXPECTATIONS FOR BEHAVIOR OF SENIORS DURING THE CEREMONY:
• Seniors will walk into the ceremony, across the stage, and upon leaving the Ramsey Center in a dignified manner.
o Any senior who attempts to carry themselves in an "undignified" way will be excused from the graduation ceremony.
o The use of cell phones is prohibited by seniors during the graduation ceremony.
o Students will be expected to walk to Mr. Collins, once their name has been called, and he will hand them their diploma and shake hands, while a photo will be captured by a professional photographer, and then the student will exit the stage.
▪ If a student does not adhere to these standards they will be escorted out of the Ramsey Center and they will not receive their diploma cover.
• This is a very special occasion for our seniors and their families. Our graduation will include a carefully crafted slideshow of each of our seniors. In light of this special time and out of respect of very young children and the elderly – NO AIR HORNS OR BEACH BALLS WILL BE PERMITTED. Anyone that possesses either of these items, (or other items which may detract from the graduation ceremony), will be escorted out of the Ramsey Center.
CONGRATULATIONS CLASS OF 2017!
WE ARE SO PROUD OF YOU MOUNTAINEERS!