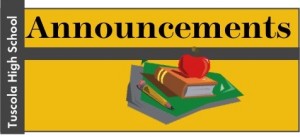 GENERAL INFORMATION
Applications for the Cattlemen's Association Scholarship are now available in the Counseling Center. This scholarship is due on May 5th.  They will advise when interviews will be held.
The Tuscola Greenhouse Plant Sale Grand Opening Day is Saturday, April 29th from 8:00 a.m. – 12:00 p.m.  The sale will last through the following week (May 1st-5th) from 8:00 a.m. – 3:30 p.m. Come early for the best selection!
Everyone! Don't wait until the last minute to buy your yearbook- you can reserve your copy in room B2 today for $20.
Attendance Recovery Sessions begin next week Tuesdays/Thursdays from
3:15-6:05 pm….Sign up in the main office!
$5 per afternoon
Make up absences 7,8,9
COUNSELING CENTER INFORMATION
Financial Aid Night will be Monday – April 24th at 5:30pm at the HCC's Regional High Tech Center Auditorium in the Industrial Park.  This event is for parents and students to learn more about the financial aid process and accessing federal and state grants, loans, and work study programs.  Although this event is primarily to prepare juniors to fill out the FAFSA in the Fall, all families are welcome to attend.
SENIOR INFORMATION
Seniors- The yearbook staff needs a baby or childhood photo of each senior to use for the graduation ceremony. If you purchased a "baby ad" for yearbook, they will use one of those. Everyone else, bring a picture to Ms. Bates in B2.
Also, seniors who purchased an ad, need to have that paid in full by May 12th in order to receive your yearbook.
Seniors! Josten's will be here on Friday, April 28th to pass out your graduation attire during both lunches!
CLUB INFORMATION
There will be a Fly Fishing Club meeting during T-time on Friday in Mr. Sugg's room A4.
Attention Key Club members!  Please stop by Ms. Smiley's room anytime to pick up an important informational brochure about a future project. Also remember to bring in any service hours as soon as possible.
The following people need to stop by Ms. Smiley's room to get their letter from 8th grade: Blake Sutton, Caleb Tice, Dylan Worley, Hunter Bolin, Jacob Palmer,Drew McCoy, Aaron Ashe, Jacob Schultz, Katie Fielden, Jacob Parker, Kyla Moore, Katie Long, Kyle Creary, Alex Plemmons, Evan Christiansen, Dyllan Cooley, Trevor Roberts, Jones Heinz, Nathan Cutshaw