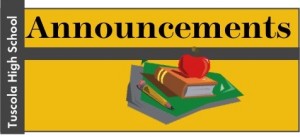 GENERAL INFORMATION
Applications for the Cattlemen's Association Scholarship are now available in the Counseling Center. This scholarship is due on May 5th.  They will advise when interviews will be held.
The Tuscola Greenhouse Plant Sale Grand Opening Day is Saturday, April 29th from 8:00 a.m. – 12:00 p.m.  The sale will last through the following week (May 1st-5th) from 8:00 a.m. – 3:30 p.m. Come early for the best selection!
Everyone! Don't wait until the last minute to buy your yearbook- you can reserve your copy in room B2 today for $20.
JROTC cadet leaders will have a Cadet Staff Meeting during T-Time in the JROTC classroom today.  Also, the following students need to stop by the JROTC classroom during T-Time to sign uniform inventory sheets:
Elizabeth Bradley
Olivia Fleegle
Clay Payne
Samantha Woody
COUNSELING CENTER INFORMATION
We are proud to announce this year's Junior Marshals for the Class of 2017:
Jacob Becker, Olivia Johnson, Natalie Swaim, Mackenzie Aldridge, Sophia Masciarelli, Rebekah Vertrees, Ally Leatherwood, Hannah Litty, Olivia Ottinger, Isley McClure, Stephen Wenzel, Autumn Satterfield, Kendall Myers, Jordan Kielson, Elijah Foglio, and Kristen O'Rear.
Congratulations to our Junior Marshals! Please see Mrs. Christopher in the counseling center as soon as possible today!
SENIOR INFORMATION
Seniors- The yearbook staff needs a baby or childhood photo of each senior to use for the graduation ceremony. If you purchased a "baby ad" for yearbook, they will use one of those. Everyone else, bring a picture to Ms. Bates in B2.
Also, seniors who purchased an ad, need to have that paid in full by May 12th in order to receive your yearbook.
Seniors! Josten's will be here on Friday, April 28th to pass out your graduation attire during both lunches!
CLUB INFORMATION
There will be a Fly Fishing Club meeting during T-time on Friday in Mr. Sugg's room A4