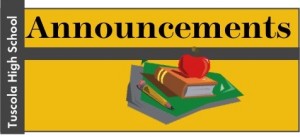 GENERAL INFORMATION
Students, you must take care of all obligations that you owe to be able to attend Prom, also to receive your diploma upon graduation. Please see Mrs. Jones in the office, Mr. Perry in room A2 or Mrs. Christopher to clear your name. You may also owe a teacher a book, etc.!
Students interested in helping with Junaluska Elementary Science Night tonight (and have not already signed up), please see Mr. Davis by lunch time today!
Tuscola Greenhouse Plant Sale! Grand Opening Day is Saturday, April 29th from 8:00 a.m. – 12:00 p.m. Other dates and times: May 1st – May 5th from 8:00 a.m. – 3:30 p.m. Or until we sell out, come early for best selection!
THS social media feeds on Facebook and Twitter just broke a combined 900 followers. Thank you for sharing our posts. Please help us break 1000 combined followers by continuing to repost and share our content. You can click the icon on the top right hand corner of our webpage to follow us on twitter or Facebook.
American Red Cross Blood Drive will be held here at Tuscola in the Media Center on Friday, March 24th. Those interested need to sign up with Amy Garner room A6 or Lisa Burgin D5.
Prom Tickets will go on sale March 27th! Tickets are $50 each and CASH ONLY!
The 35th Annual Country Western Show "Country Roads" will be Friday, March 24th at 7:00 p.m., Saturday, March 25th at 7:00 p.m. and Sunday, March 26th at 2:30 p.m. Tickets are $10 and will be available at the door.
COUNSELING CENTER INFORMATION
ETSU campus will be hosting BLUE Weekend (Bucs Live University Experience) on  March 31-April 1st. This is a STEM program that will introduce students to the many degree programs that are offered at ETSU while also providing them with an opportunity to experience the ETSU campus in an up close way! For more information, please see flyer posted on the counseling center window.
College Visits:
*Campbell University will be here on Friday, March 17th during T-Time in the counseling center.
Any Junior Male that is interested in Tarheel Boy's State, please stop by the counseling center for more information!  Applications will be due back to the counseling center by April 21st. Mr. Collins is an Alumni of Boy's State and Boy's Nation! Please feel free to ask him any questions that you may have!
SENIOR INFORMATION
Seniors, if you have not placed a cap and gown order for graduation, Josten's will be here at Tuscola in the lobby on Friday, March 17th during both lunches! It is very important you get this done! If you have any questions, please see Mrs. Christopher in the counseling center.
CLUB INFORMATION
Illusionist Club will be meeting each Thursday in Mrs. Tox's room – F3.