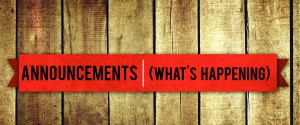 COUNSELING CENTER INFORMATION
10th and 11th Grade Homeroom Teachers 
The Counseling Center will be working with 10th and 11th grade students this week going over 4 year plans in the Media Center. 
Here is the schedule:
Thursday, December 3rd               10th Grade
1st Block:   E. Rhinehart and Kea Homerooms
2nd Block: Tox and Sollie Homerooms
3rd Block:  Pressley's Homeroom
4th Block: E. Melville and Robertson's Homerooms
Friday, December 4th                    10th Grade
1st Block:   Wright and Warlick Homerooms
2nd Block: McElroy and Golden Homerooms
3rd Block:  Sawicki and Best Homerooms
4th Block:  Erwin-Smart's Homeroom
CLUB INFORMATION
FBLA—Competed  at Western Region Competitive Events at Brevard HS
Jacob Becker 2nd in Accounting I
Bryce Batchelor 2nd  Business Calculating
Sarah Smart 2nd Job Interview
Katlyn Bryant and Kimberly Stocker 3rd Spirit T Shirt
Miranda Amos and Sarah Asprogiannis 2nd Spirit Cheer
Matthew Miller, Kimberly Stocker and Katlyn Bryant competed in Bus. Communications.
Next FBLA meeting is scheduled for Tuesday, December 8th during Smart Lunch A in D9.
Sportsman Club – Mandatory Meeting Thurs. B Lunch in F-8
SWAT team will meet Wednesday during A Lunch.  12/2/15.
FFA Thursday during A lunch to discuss the parade float.   Workdays will be Friday from 3-6 and again Sat. 9 until finished.  You must work to ride.
Science Olympiad Saturday at Tuscola is THIS  SATURDAY.  Please sign up if you are planning to participate in this fun science activity.  Signing up will allow planners to prepare for your participation.  A sign up sheet can be found outside of room C-7.  See your science teacher for more details.
International Club is selling beautiful bracelets and bags in the lobby all week during lunch.  Stop by to Christmas shop and help young people of Central America.
SPORT INFORMATION
Boys Soccer open scrimmage this Thursday at the stadium from 3:45 – 5:15.
Unified Basketball practice will start today during B Lunch in the big gym.   See Ms. Shipman or Mr. Gibbs if you are interested or see us during B lunch.