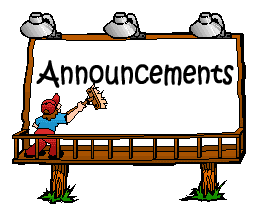 GENERAL INFORMATION
Spirit stickers on sale in the office for $1
The Tuscola Choral Department and Summit would like to invite you to our Broadway show this weekend:  Saturday at 7 pm and Sunday at 230.  Come laugh with us as these teens entertain like never before.  Tickets are on sale with Summit members, in the office or at the door.   Dessert will be served at intermission.   So come and enjoy a great show this weekend!
Math Club is having a BBQ dinner this Saturday from 5:30 to 8:00 at Waynesville First United Methodist Church.  Cost is $6 and the meal includes homemade desserts!  Tickets are available at the door or come by Room C-2 anytime.  Math Rocks!
COUNSELING CENTER INFORMATION
Tuesday 11/17 during both Smart Lunches in the Media Center Computer Lab
Matt Heimburg, HCC will meet with students who are taking classes next semester.  He will be orienting students to the computer log in system, required books, and answer any questions.
Wednesday 11/18 during both Smart Lunches in the Lobby, a representative from the Cosmetology Dept. at HCC will be here to talk with any interested students.
Thursday 11/19 during both Smart Lunches in the Media Center Computer Labs, Matt Heimburg from HCC will be here to meet with students who are taking classes next semester through HCC.
CLUB INFORMATION
HOSA members will meet during A Lunch Today in D-5 to discuss their Christmas Parade Float.
FBLA members traveled to North Charleston, SC on Friday, Nov. 13th to attend the 2015 FBLA National Fall Leadership Conference:
Miranda Amos
Sarah Asprogiannis
Jacob Becker
Katlyn Bryant
Trey Caldwell
Matthew Miller
Sarah Smart
Kimberly Stocker
Daniela Zamudio
Members had the opportunity to connect with other FBLA members from other parts of the country as well as attend leadership development workshops.   Future Business Leaders of America provides students the opportunity to develop character, citizenship, technical, leadership, and teamwork skills essential for those preparing for the workforce and further education.   Any student interested in joining FBLA should see Mrs. D'Alesandro or Mrs. Burgin.
The next FBLA meeting is scheduled for Thursday, November 19th in room D-9 during SMART lunch A and B.  Lunch will be provided.
Congratulations to the FFA land judging teams on their wins at State Competition.   The Senior Judging team is the North Carolina State Champions.
Senior Team Members are 
Nathaniel Carver
Addie Ruff
Josie Presnell
Hunter James
The Senior Team will travel to Oklahoma in May to compete at Nationals.  This represents the first time in school history that a Tuscola team has won the state land judging competition.
The Junior Team place 2nd overall in the State Championship
Justin Ross
Daniel Ross
Michaela James
Destiny Little
SPORT INFORMATION
Anyone interested in running winter track practice begins Tues. Nov 17th.  You must have a current physical to participate.  See Coach Clinard with questions.
Softball meeting Tuesday Nov. 17th @ 3:05 in the library.  See Coach Gibbs with questions.