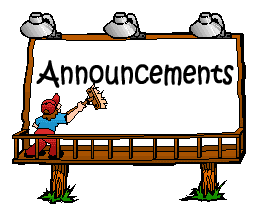 GENERAL INFORMATION
Spirit stickers on sale in the office for $1
CLUB INFORMATION
Mrs. Early in F-9 has Spooky Sprint Shirts for Sale.  $15.00
Any Freshman or Sophomore who is interested in becoming a class representative for Student Government, please come by Ms. Smiley's room, A-7 to find out more information on Friday during B Lunch.
The next FBLA meeting is scheduled for Thursday, November 19th in room D-9 during SMART lunch A and B.  Lunch will be provided.
Congratulations to the FFA land judging teams.  Both senior and junior teams placed first in regional competition and advanced to state.   Team members were:
Nathaniel Carver
Addie Ruff
Josie Presnell
Hunter James
Jacob Palmer
Justin Ross
Daniel Ross
Michaela James
Destiny Little
Sara Rathbone
Madison Turner
Addie Ruff and Jacob Palmer tied for high individual score in the senior division.
Michaela James had the highest individual score in the junior division,
SPORT INFORMATION
Anyone interested in running winter track practice begins Tues. Nov 17th.  You must have a current physical to participate.  See Coach Clinard with questions.
Softball meeting Tuesday Nov. 17th @ 3:05 in the library.  See Coach Gibbs with questions.
Friday's Spirit day is CLASS COLOR DAY.  Wear your assigned class color to support our Mountaineers as they travel to Statesville High School for the first round of playoffs.  Freshmen—Gray, Sophomores—White, Juniors—Black, Seniors—Gold.  Faculty and staff—any combination of gray, white, black & gold.