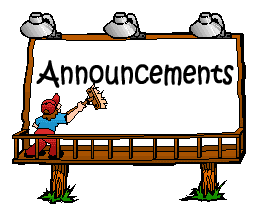 GENERAL INFORMATION
Spirit stickers on sale in the office for $1
COUNSELING CENTER INFORMATION
Seniors:  THIS week you will be participating in College Application Week. 
College Rep Lunch Schedule for this week:
Tue.  UNCA, Brevard College
Wed.  ETSU, WCU
Thur.  HCC, Mars Hill Univ.
CLUB INFORMATION
Mrs. Early in F-9 has Spooky Sprint Shirts for Sale.  $15.00
Cooking Club will meet Thursday, B lunch in room D-1
Please join us in B-5 Wednesday during B Lunch to be a part of Tuscola Shares, where we will help build up our food pantry.   Please bring friends.
SPORT INFORMATION
The Soccer Team will have a home play-off game this Wednesday at 7 taking on Shelby Crest.  Admission is $6 and no passes are accepted.  Come out and support the soccer team!
Anyone interested in running winter track practice begins Tues. Nov 17th.  You must have a current physical to participate.  See Coach Clinard with questions.