41 Tuscola Students Receive Microsoft Word 2013 Certification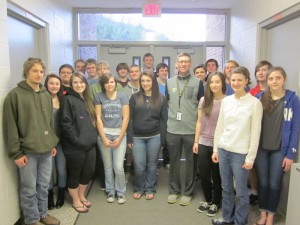 Period 1 Microsoft Office Specialists
Front Row: Justin Bumgarner, Savanah Johnson, Krystyna Rogers, Ashlea Wilson, Madison Turner, Mr. Collins, Brandy Wightman, Tiffany Dennis, Bailey Hagedorn.  Back Row: Nathan Adams, Zeb Sanford, Evan Christiansen, Colton Moore, Trent Hollis, Cody Wood, Matt Miller, Jacob Osterheldt, Cody Thompson, Jacob Newton, Nathan Messer, Gab Dayton.  Missing from picture:  Austin Truitt.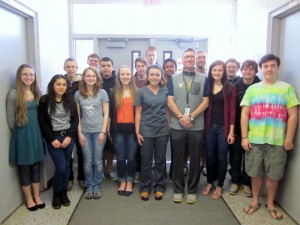 Period 3 Microsoft Office Specialists
Front Row: Olivia Hagan, Jessica Garcia, Meganne Copen, Lauren Sellers, Krista Passeri, Mr. Collins, Caitlyn Johnson, Garit Pierce.  Back Row: Daniil Ivanov, Kyle Bass, Michael DeLaCruz, Kristopher Rathbone,  Austin Lamm, Sami Gebreegziabher, Zach Lennane, Lucas Bolden, Tanner Robinson.  Missing from picture:  Destiny Mullen, Chris Lance, Kassidi Justice, Cade Justice.
Perfect Score in Microsoft Word 2013 Certification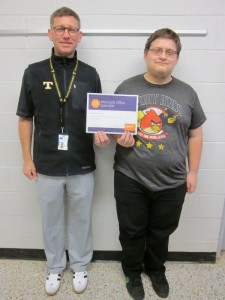 Travis Collins, principal of Tuscola High School, congratulates Nathan Adams for the perfect score he earned on the Microsoft Word 2013 certification exam.  Nathan also passed the Microsoft Word Expert Part 1 certification exam.
Tuscola's CTE Business Department is proud to announce that out of 48 students currently enrolled in Microsoft Word & PowerPoint, 41 students (85%) passed their Microsoft Word 2013 certification exam and became "Microsoft Office Specialists."  Later this spring, students will take the certification exam for Microsoft PowerPoint 2013.